About our Staff
Roddam & MacDonald is very proud of its legal team:
E. Anne MacDonald, BA, LLB:
Anne was admitted to the Nova Scotia Bar Association in 1977. Her extensive understanding of provincial and municipal law will make your experience smoother.

Jeanie Battist:
Jeanie is our real estate assistant. She has been working with Anne for over 20 years and is always more than happy to help someone with the preparation of documents for the sale, purchase or mortgage of property.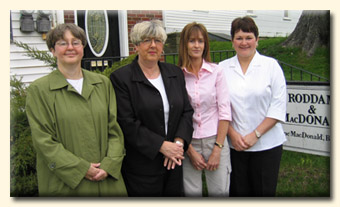 Other Staff Members:
Our other staff members assisit with the preparation of wills, estate documents, Family Court documents, Supreme Court documents and municipal contracts. (Note that files including divorce, property disputes and guardianship similar cases must appear before the Supreme Court of Nova Scotia).

Top of page...